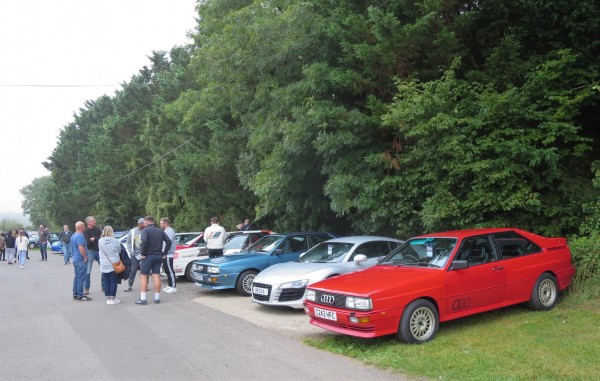 At last, Rally Day was back! Our last visit to Castle Combe was 2 years ago, September 2019, seems like yesterday!
If you are a Rally fan, no doubt this an event you mustn't miss. Plenty of action on track all day long with a great variety of cars showing their sideways handling particularly at Quarry, awesome and rather enjoyable. After lunch we had the traditional Rally course, the highlight of the day being the Audi S1 (IN-YN-13) driven by none other than the well-known rally driver David Higgins.
Six cars were representing the quattro Owners Club. What we lacked in numbers was made up by the quality of the cars present, 5 immaculate Urs plus a lonely R8. Usual polishing took place, Pete & Deniele Heading as well as Simon Rowland. Well done guys.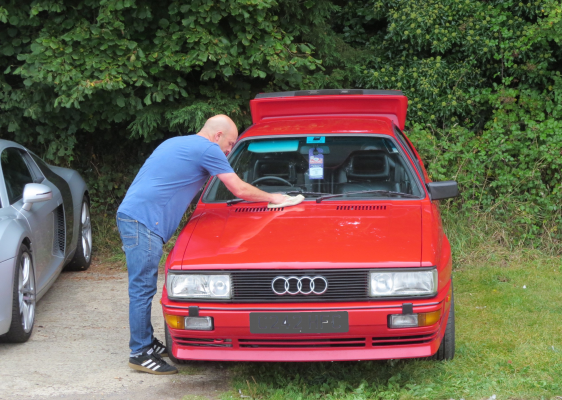 Member Darron is always full of surprises, this year as you can see in the picture, time to cook some bacon for mid-morning rolls not forgetting a nice cup of tea.
A misty start but soon the weather improved as well as the temperatures. Quite a few spectators all around the circuit all well prepared for a good day's entertainment on and off the track. Despite the sudden and somehow crazy "lack of fuel" the paddock had a large variety of cars. The day went by very quickly and before we knew it, it was time to go. We all departed around 16h30 after a great day. As always, we shared our quattro knowledge to keep the cars on the road. If you don't want to get your Ur "dusty", come along with your other quattro. Quite a few of you have got modern quattros, why don't you come to Rally Day?
Hope to see you next year, we are looking forward to it.